Application of electrostatic discharge protection devices in vehicle intelligent terminals
2020/02/06
Abstract: Under the increasing demand of electronic vehicles in the world, each electronic unit needs to pass the electromagnetic compatibility test after completing the single component. Most of the requirements for the components come from the automobile, national government or international regulations. Therefore, it is a key method to pass the electromagnetic compatibility test by properly considering the placement of the electrostatic protection device around the main chip or the interface sensitive to external interference energy.
1. Parameters of electrostatic discharge protection device
Proper selection of electrostatic dishcarge protection devices improves the reliability and robustness of electronic products. Because each electrostatic discharge protection device has slight parameter differences, except for paying attention to that protection device must meet regulations of electromagnetic compatibility test when selecting, the following parameters are included in specifications which used to evaluate on own circuit protection specifications; such as clamping voltage, parasitic capacitance (CIN), one-way, dual-way protection and operating voltage and reverse leakage current of protection devices.
Clamping voltage parameter should be lower than rated voltage of system being protected. By using transmission line pulsing system (TLP) I-V characteristic curve under short-term, high-voltage electromagnetic wave triggering behavior of TVS (Transient voltage suppressor) protection device can be measured. AMAZING Microelectronic Corp. provides protection device AZ9424-02S that meets AEC-Q101 qualification for CAN bus CANH and CANL. Figure 1 is the TLP test curve of AZ9424-02S, which indicates that when the device withstands the IEC 61000-4-2 + 8kV electrostatic discharge (Contact mode) energy, the voltage can be clamped at 31V to protect the back-end circuit (TLP conditions:Z0=50ohm, tp=100ns, tr=1ns)。
2.2 Parasitic capacitance (CIN)
The ESD protection device is used in parallel with the signal line. Therefore, the parasitic capacitance (CIN) of the protection device will affect the signal transmission quality to a certain extent. Table 1 below provides suggestions for selecting high speed signals and parasitic capacitance specifications. Eye diagram measurement can be used to ensure signal integrity to determine the impact of signal quality. AZ9143-04F is an array device that supports four signals and has low parasitic capacitance CIN = 0.45pF@1MHz ). It can be widely used in HDMI 2.0 or USB 3.0 high speed interface and is AEC-Q101 qualified. As shown in figure 2, the low parasitic capacitance feature of AZ9143-04F meets eye diagram measurement specification of USB 3.0.
2.3 Unidirectional and bidirectional protection of TVS
Protection devices are divided into unidirectional and bidirectional types in a wide range of applications. For unidirectional applications, for example, the primary consideration is power port. Because power is within a certain voltage range at reference ground, it is deemed as positive voltage when higher than reference ground and vice versa. However, some designs will deliberately choose bidirectional protection at the power port due to the need to pass some electromagnetic compatibility regulations. The bidirectional protection type is mostly applied to the signal port (GPIO) or communication interface. If significance feature voltage of signal is only maintained at the positive or negative level, unidirectional type should be considered. If significance feature voltage of signal is maintained within positive and negative voltages at the same time, it is necessary to select bidirectional protection type. Refer to illustration in figure 3 below.
2.4 Operating voltage VRWM and reverse leakage current ILEAK of TVS
Operating voltage of protection device is usually marked as VRWM (Reverse Working Voltage) in specification; which means that when it is operated in this voltage range, it will show a high impedance state. Any signal transmission on system will not be affected by protection device, In addition to the correct selection of the operating voltage of the device, if the device has low reverse leakage current (ILEAK) characteristics. it is also suitable for applications in new energy vehicles. As shown in Table 2 ILEAK parameters of AZ9716-01F.
3 On-board intelligent terminal (Telematics BOX, T-Box)
The on-board intelligent terminal is used as a communication gate for information exchange between vehicle and outside world and realizes the communication of automobile and vehicle network service platform. Figure 4 shows part of application architecture of an on-board terminal. In addition to electrostatic discharge protection devices, AMAZING Microelectronic Corp. also provides interface transceiver with high ESD protection (IEC 61000-4-2) and surge protection (IEC 61000-4-5) capabilities, such as RS-232, RS-485 and CAN bus. It also provides electrostatic discharge protection devices for relevant interfaces. Through low clamping voltage and low parasitic capacitance technology capabilities of devices, the product achieves high reliability and excellent signal integrity.
In order to ensure data accuracy integrity of on-board terminal product not to be interfered with other electronics or being damaged by abnormal energy coupling when collecting data, it is necessary to strictly test the electromagnetic compatibility test and adjust test level according to application environment except for meeting the basic electrical performance test. .The national recommended standard GB/T 32960.2 Technical specifications of remote service and management system for electric vehicles Part 2: On-board terminal states that test voltage levels of electromagnetic compatibility test items are usually defined by vehicle companies due to various degrees of test level. Figure 5 lists the reference test items that recommended by national standard.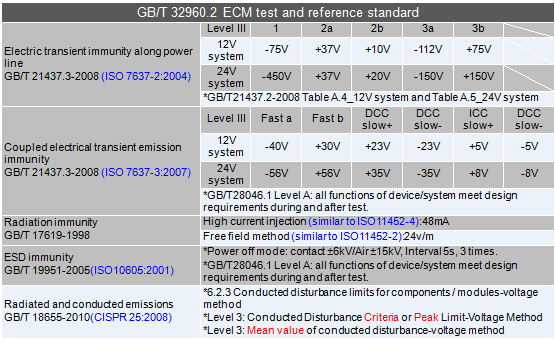 3.1 Electric transient immunity along power line
The electrical transient conduction immunity test along the power line is performed in accordance with GB/T 21437.2-2008. Its 1, 2a waveform must meet more than 5000 pulse wave tests, and test duration of 3a and 3b pulse wave test should be an hour. In this regard, AMAZING Microelectronic Corp. provides AZ9824-01F whose DFN package is suitable for protection of LIN bus. Except for meeting vehicle regulations, it also provides application which is higher than recommended standards.
Figure 6 and 7 show the ISO 7637 monomer test result of AZ9824-01F which is tested by a third party lab. The pulse 3a&3b reaches ±600V under direct capacitive coupling (DCC) mode and this specification if higher than recommended standard of GB/T 32960.
3.2 Electrostatic Discharge immunity test
Electrostatic Discharge immunity test is conducted in according to GB/T 19951-2005. The test object is not energized during the test, and the test location is the surface that the installation operator can easily touch or a specific point for the discharge test. AMAZING Microelectronic Corp. provides protection devices for various applications as shown in figure 4.
It is suitable for electrostatic discharge protection devices with a maximum voltage range of 36V in the power block and a core voltage of 1.8V on the main chip. Array design is used for storage ports such as SD card or USB interfaces to reduce space demand. In addition, for antenna production for wireless modules such as WiFi, GPS or BLE, products with single channel and low parasitic capacitance (~0.45pF) are available, such as AZ9565-01F. Table 3 listed product parameters applied in various interfaces
AZ9424-02S can be used for CAN bus communication production with its ±30kV electrostatic protection (IEC 61000-4-2) capability and 6A (8/20μs) surge protection (IEC 61000-4-5) level.
AMAZING Microelectronic Corp. provides electrostatic discharge protection devices that meet requirements AEC-Q101. Their excellent low clamping voltage and low parasitic capacitance parameters can be widely used in on-board vehicle communication interfaces and internal circuits for protection and to improve product reliability. Except for electrostatic discharge protection devices, there is CAN bus transceiver AZCAN1042T which meets qualification of AEC-Q100, and complies with ISO 11898-2:2016 CAN FD up to 2Mbps. AMAZING Microelectronic Corp. products cover a variety of automotive application environments. This article is an example of the application of electrostatic discharge protection devices in vehicle terminals. If you have any questions, please contact local technicians.
(1) Electrostatic Discharge protection technique III, 2018/2, AMAZING Microelectronic Corp.
[2] IEC 61000-4-2, EMC - Part 4-2 : Testing and measurement techniques - Electrostatic discharge immunity test, International Electrotechnical Commission (IEC)
[3] ISO 7637-3, Road vehicles Electrical disturbances from conduction and coupling Part3: Electrical transient transmission by capacitive and inductive coupling via lines other than supply lines, International Organization for Standardization (ISO)
(4) GB/T 32960 Technical specifications of remote service and management system for electric vehicles, 2016, Standardization Administration of China
The importance and insurance of ESD protection
Interface bus transceiver with electrostatic protection device applied to charging facility