Interface bus transceiver with electrostatic protection device applied to charging facility
2020/02/04
Abstract: The driver will have a system-level electrostatic energy (IEC 61000-4-2) impact on the charging facility during operation. The charging facility can be designed with a bus transceiver with electrostatic protection device to ensure the stability and reliability of the data exchange.
CLC NO.: U462 Document Code: A Article ID:1671-7988(2019)04─
1 Foreword:
The market demand for charging spot equipment has increased with the market demand of electric vehicles. Except for generating significant interference on surrounding circuit when charging vehicle from charging spot, the operator may also have electrostatic energy which affects the equipment to a certain extent. Therefore, selecting interface communication chip with basic electrostatic protection in design can not only saving overall components of the circuit, but also improve stability and reliability of system operation. Relevant national regulations have defined the communication interface between charging equipment and vehicle charging.
2 Type and structure of electric vehicle charging equipment
2.1 Charging equipment type
In the Q/GDW 478-2010 "Technical guide for electric vehicle charging infrastructure construction" announced by state grid corporation of China, two types of charging devices are mentioned: AC charging spot and off-board charger. Among them, AC charging spot is also known as AC power supply which refers to a specific device that supplies AC power for electric vehicle equipped with on-board charger via conduction mode. The off-board charger is a specific device that fixed on ground and is able to convert AC power into DC power and charging batteries of electric vehicle by using conduction mode. These two devices can be referred as charging equipment.
AC charging spot is commonly known as "slow charging" which only provides power output without charging function because it charges electric vehicle through on-board charger. The reason for being named "slow charging" is because the power of on-board charger is not sufficient to achieve quick charging. After a pure electric vehicle (with common battery capacity) is completely discharged, it takes about 8 hours to be fully charged with AC charging spot; while only 2 - 3 hours by using DC charging spot.
Off-board charger is a DC charging equipment which is not installed on electric vehicle but is connected directly with AC grid, so it can charge batteries of electric vehicle with off-board charger. DC charging equipment is powered by three-phase four-wire mode with adjustable DC power; thus, the output voltage and current can be adjusted in a wide range to realize requirement of quick charging.
In addition, the interfaces of AC and DC charging equipment are different. DC charging equipment charged batteries directly, therefore, CAN bus communication signal is presented on interface connected. This information can be obtained through GB/T 20234-2015.
2.2 Charging equipment hardware
According to standards Q/GDW 485-2010 "Technical guide for electric vehicle charging infrastructure construction" and Q/GDW 1233-2014 "Electric vehicle off-board charger general requirements" published by state grid corporation of China, main functions of charging equipment include: master control unit, human-machine interaction system, metering system, billing system, communication system and safety protection system which are integrated in charging equipment. Figure 1 below indicates units and devices supported by charging system.
According to specifications of GB/T20234.1-2015 "Connection set for conductive charging of electric vehicles", connection interface of DC charging equipment uses CAN bus to connect charger or control charging process. RS-485 interface is used to connect with smart electric meter for statistics of power utilization and electric leakage detection. RS-232 interface connects to wireless module, relevant hardware of payment and bill printing etc. In addition, some system board also supports USB interface to connect with back-end data collection center through 3G/4G/GPRS.
3 EMC protection requirement of charging equipment
The charging equipment needs to be operated by operator or driver; therefore, with the exception of payment-related safety and camera warning functions, any safety concerns of safety design and operation caused by electrostatic must be ruled out.
3.1 EMC protection requirement of AC charging equipment
According to Q/GDW 485-2010 "Technical guide for electric vehicle charging infrastructure construction" published by state grid corporation of China, human-machine interaction system, metering system, payment system, communication system and safety protection should have self-fault detection and alarm function which meets -20℃ ~ +50℃, 5% ~ 35% relative humidity working environment. Special environment can be established after coordination.
Electromagnetic compatibility specifications mentioned in Q/GDW 485-2010 should comply with the equipment defined in national standard GB 7251.1-2005 / IEC 60439-1:1999. If the complete set of equipment or its components cannot meet the requirements of a) and b) required in 7.10.2, the following EMC test standards shall be referred to and meet the requirements of Level 3. As shown in table 1 below.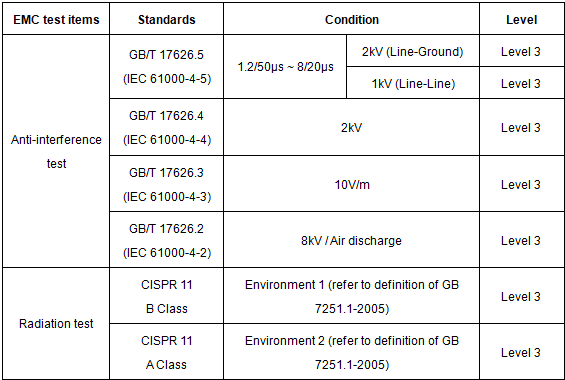 3.2 EMC protection requirement of DC charging equipment
In the standard Q/GDW 1233-2014 "Electric vehicle off-board charger general requirements" published by state grid corporation of China, the basic components that composed off-board charger include power unit, control unit, metering unit, charging interface, power supply interface and human-machine interaction interface etc. Temperature of working environment: -20℃ ~ +50℃; relevant humidity: 5% ~ 95%。 There are several types of electromagnetic compatibility that must be met under the working environment temperature and humidity above mentioned as shown in table 2. It requires that charging equipment must be able to withstand at lease protection level 3 test.
4 RS-232/RS-485/CAN bus applied on communication interface
AMAZING Microelectronic Corp. provides RS-232, RS-845 and CAN bus transceiver with electrostatic protection level which corresponds to communication interface for various hardware architectures. The following describes the characteristics of the available transceivers.
4.1 RS-232 transceiver series
The Electronic Industry Association (EIA) of the United States defined the RS-232 standard in 1962 and proposed the RS-232-C modification in 1969. The latest version is RS-232-F. RS-232 defines a serial communication interface standard which mainly defines the electrical characteristics, logical potential, resistance characteristics of transmission lines, and functional requirements of signal lines during communication, but does not define the physical characteristics of the connector. Because connector characteristics are not defined in the standard, DB-9, DB-15, and DB-25 connector types are also developed.
In the design of the circuit board of charging equipment, due to the consideration of transmission speed and communication interface application, RS-232 will be selected for communication when evaluating the characteristics and the suitability of the communication interface of the external device. AMAZING Microelectronic Corp. provides complete RS-232 transceiver solutions as shown in table 3 below.
RS-232 transceiver series has several main blocks as shown in Figure 2 below, including Bipolar charge pump circuit, TX and RX circuits and Auto-powerdown circuit. The advantages are: complies with the latest TIA/EIA-232-F international standards and is able to support applications of 3V~5.5V input power, multiple transmission ports with system level electrostatic protection specifications (IEC61000-4-2) which achieve ±15kV of air discharge and ±8kV contact discharge level. Component itself also provides a variety of packaging requirements that corresponds to mainstream applications.
Also, RS-232 transceiver provides Auto-powerdown circuit which is used to detect if there is device connected on RS-232 bus. If no device being detected, it will be turned off for power saving. This function is also suitable for handheld products to improve utilization efficiency and extend battery life. For power supply, a build in negative feedback regulator in transceiver improves stability of voltage. When the transceiver enters auto-powerdown mode, it maintains charge pump circuit at 1μA leakage current to achieve power saving purpose.
4.2 RS-485 transceiver series
TIA/EIA-RS485 standards is developed from RS-422 and based on which, RS-485 standards add both-way communication capability of multipoint and half-duplex, and also extends the common mode voltage range of the bus. Compare with TIA/EIA-232-F standards, RS-485 provides higher transmission speed to 10Mb/s and 400 foot of bus length.
As shown in Table 4 blow, RS-485 series transceiver of AMAZING Microelectronic Corp. is able to support internal communication interface application of current charging equipment. The voltage range supports 3.3V and 5V MCU chip application environment, data transmission speed reaches up to 16Mbps. Models of AZRS3082 and AZRS3088 are shown in Figure 3. The electrostatic protection level as required in IEC 61000-4-2 reaches ±30kV, surge protection level (IEC 61000-4-5) reaches ±30A(8/20μs)and protection level of pulse group (IEC 61000-4-4(5/50ns)) is up to ±88A. In HBM, the pin protection level for all RS-485 transceiver reaches ± 15kV; and in MM ± 800V, it reaches the level of industrial environment applications. For applications, high VOD2 with a minimum value of 2.3V is introduced (test condition is 54ohm load). There are also non-polarity products such as: AZRS485N and AZRS485 with the advantages of being able to prevent incorrect connection for front end wiring engineers.
The international standard specification of common mode voltage of transceiver is -7V ~ +12V. All specifications of AMAZING Microelectronic Corp. products have been adjusted as -13V ~ +13V for resisting larger interference range and maintain high data transmission success rate. The entire RS-485 series also provides fail-safe protection mechanism to prevent short circuit, open circuit at input of receiver, and maintain high level when in idle condition. By optimizing the characteristics of the receiver input impedance which is designed to 96Kohm that has increased the original capability of supporting 32 devices by 8 times; which means up to 256 devices supported.
4.3 CAN bus transceiver series
CAN bus transceiver is controller area network which is also a series communication protocol. The ISO 11898 standard was introduced in 1993 that is meanly used for communication of various internal components of automobile. For automobiles, CAN bus applications can provide the advantages of higher reliability, higher performance, and real-time performance. At present, it has also been widely used in industrial automation, control equipment, vehicles, buildings, medical instruments, and so on.
AZCAN1042T CAN bus transceiver has obtained automotive related AEC-Q100 qualification. The characteristics of transceiver are shown in Table 5 below. Relevant system level EMC verification has been carried and the purpose of which is to compare characteristic performance of client application. The related verification items are listed in Table 6 and third party data reports are also available. AZCAN1042T provides two operating modes: working and standby mode. In standby mode, the transceiver can be awakened through the Wake-Up filter circuit shown in Figure 4 to cope with products that require power optimization. The SPLIT and VIO pins can be used for 5V and 3.3V MCU chip applications.
The advantages of the stability and transmission distance of the CAN bus can be applied to different RS-232 and RS-485 environments, such as charging equipment for automobiles or energy vehicles. AZCAN1042T meets ISO 11898-2:2016 CAN FD standards and transmission speed of which is up to 2Mbps. Its external CANH/CANL pin protection capabilities include Fault Voltage, surge protection and electrostatic protection.
AMAZING Microelectronic Corp. transceiver series is suitable for various environment and voltage applications, and provides corresponding solutions for different needs; optimizes characteristics while obtaining the anti-static characteristic protection. Table 7 below is based on relevant international static standards for RS-232, RS-485 and CAN bus.
In terms of temperature environment applications, the current charging equipment, whether it is DC or AC, requires -20℃ ~ +50℃ operating environment temperature. All application environment of existing RS-232 and RS-485 transceiver series is able to fulfill these requirements and among them, RS-485 series is more suitable for environment of industrial control applications. Operating temperature of CAN bus AZCAN1042T reaches -40℃ ~ +150℃ which fully meet the severe applications of automobiles.
(1) Q/GDW 478-2010 "Technical guide for electric vehicle charging infrastructure construction" state grid corporation of China.
(2) GB/T 20234-2015 "Connection set for conductive charging of electric vehicle - part 3 DC charging coupler, Standardization Administration of China
(3) Q/GDW 485-2010 "Technical specifications for electric vehicle AC charging spot" state grid corporation of China.
(4) Q/GDW 1233-2014 "Electric vehicle off-board charger general requirements" state grid corporation of China.
[5]ISO 11898-2:2016 Road vehicles Controller are network (CAN) Part 2: High-speed medium access unit, International Organization for Standardization.
Author: Lin, Mengwei, AMAZING Microelectronic Corp., Design Research and Development Department
Application of electrostatic discharge protection devices in vehicle intelligent terminals
Reduction of Crosstalk at High-Speed Transmission in Dual-Channel TVS packaged using DFN1210